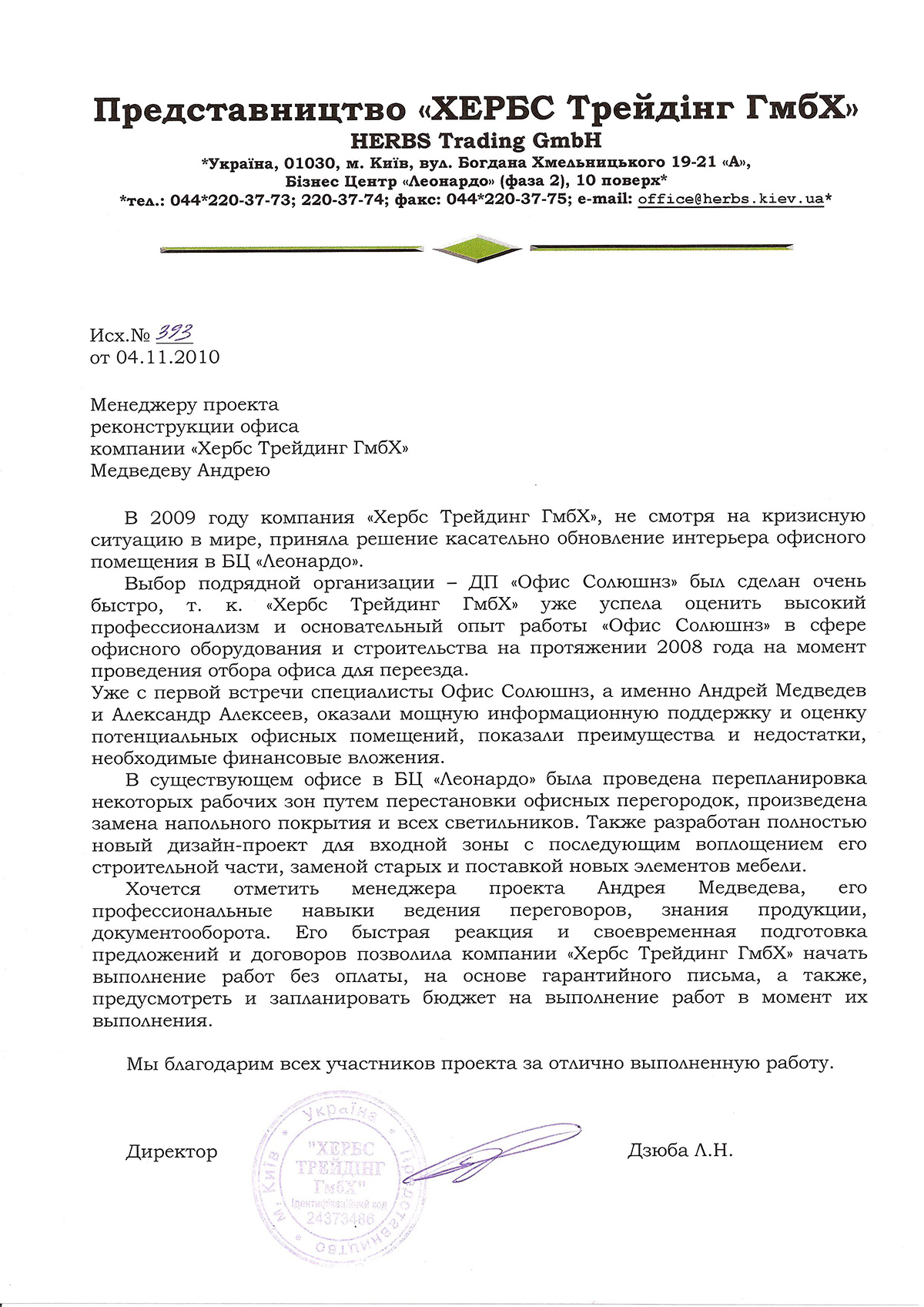 New office of Herbs Trading Gmbh Project in Kiev
Category: Offices and Furniture
Client: Herbs Trading Gmbh
Project date: 16 October, 2009
Reference Letter Text
In 2009, in spite of difficult economic situation in the world, Herbs Trading Company decided to renovate the interior of the office premises in BC Leonardo.
The choice of outsourcing company, Office Solutions, was made very quickly, as Herbs Trading had already had a chance to appreciate professionalism and thorough experience of Office Solutions in the sphere of office equipment and construction during 2008, when the office was chosen for relocation.
From the very first meeting Office Solutions specialists, namely Andrey Medvedev and Alexander Alexeev, gave a powerful informational support and assessment of potential office premises, showed advantages and disadvantages, required financial investments.
In the existing office in BC Leonardo some working areas were redesigned by rearranging the office partitions, replacing the flooring and all the lighting fixtures. Also, we developed a completely new design-project for the entrance area with the following implementation of its construction part, replacement of old and delivery of new furniture elements. I would like to note the project manager Andrey Medvedev, his professional skills of negotiation, product knowledge, document management. His quick reaction and timely preparation of offers and contracts enabled the company "Herbs Trading" to begin implementation without payment, on the basis of the letter of guarantee, as well as to foresee and plan the budget for the works at the moment of their fulfillment.
We thank everyone involved in the project for their excellent work.